Boiler Services in Simsbury CT
Sales, Installation, & Repair
Connecticut Propane & Petroleum offers quality and reliable Boiler Sales & Boiler Services in Simsbury, CT. A boiler offers a safe, comfortable, economical and flexible way to heat any home. Boiler systems circulate hot water through warming baseboards, radiators and/or radiant tubing in your floors or ceilings. There are many advantages to heating your home using a boiler (also known as a hydronic system), whether it is for a new home or as a replacement heating system for your existing home or business.
Wall Hung Boilers in Simsbury
At Connecticut Propane, we understand the importance of reliable, efficient heating in your Simsbury CT home, especially during those cold New England winters. That's why we proudly offer, install, and service Wall Hung Boilers to our valued customers across Connecticut. These high-efficiency systems are not only space-saving, with a sleek, modern design that can be conveniently installed on any wall, but they also provide significant savings on energy costs, helping you to reduce your carbon footprint.
Our team of experienced, professional Simsbury-based technicians are well-versed in the intricacies of these systems, ensuring a smooth installation and prompt, reliable service whenever you need it. We take pride in supplying products that use propane, a clean-burning, environmentally-friendly fuel, for these boilers. We're committed to helping you stay warm, while simultaneously promoting sustainability and the responsible use of resources. Your comfort, savings, and peace of mind are our top priorities at Connecticut Propane, and we believe our Wall Hung Boilers perfectly encapsulate these values.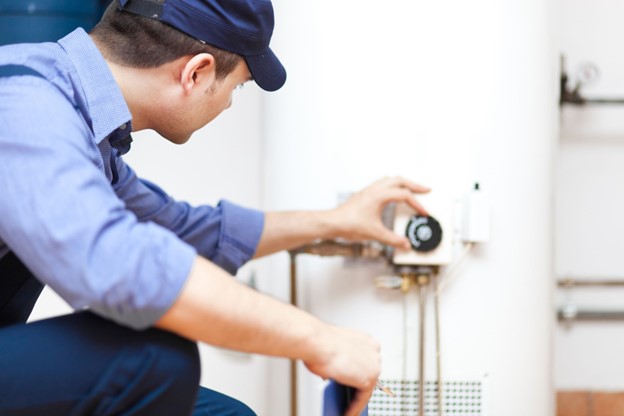 How does it work?
The gas boiler heats your home by burning natural gas or propane. The gas enters a burner and is then ignited and efficiently transfers the heat through water tubes in the heat exchanger. The heated water on the other side of the heat exchanger is then delivered to base boards, radiators or in-floor heating tubes throughout your home. So whether you need a boiler installation in CT for your home or business, you can rely on Connecticut Propane for quality Boiler Installations in Simsbury, CT and Boiler Repair in CT.
Benefits of Boiler Systems include:
Takes up less space: no bulky ductwork resulting in reduced square footage in your home

The heat is evenly distributed by room, so there won't be drafts or hot and cold spots as with forced air

Water passes through the heating loop and returns to the boiler in one of multiple circuits (zones)

One system can heat your entire home

Minimal movement of allergens and dust particles

Heating zones allow you to customize the heating level per room

Hot water from the boiler can also be directed to an indirect water heater to supply your home with hot water

Reduces dry air - no need for a humidifier

& More
Need a New Boiler System in Simsbury?
If your boiler is starting to look like an antique, or a safety hazard (which it is), its time for an upgrade. Luckily, Connecticut Propane offers Boiler Sales & Boiler System Upgrades in Simsbury, CT! Unless a property has undergone a major system renovation, many homes throughout the state lack ductwork, and depend solely on boiler systems for heat. For homeowners and businesses with existing classic heating systems (like baseboard heat, radiators, etc), there is new equipment on the market to make existing boiler systems perform with higher efficiency. Not only do we offer Boiler Upgrades in Simsbury, but we also offer Boiler Removal Services in CT. Contact Connecticut Propane, serving Simsbury, to learn more about boiler installation in CT, service and repair of Boiler Systems in Simsbury.

Simsbury Emergency Boiler Repair
If you need Emergency Boiler Repair in Simsbury CT, Contact Connecticut Propane immediately. We answer the phone 24 hours a day, 7 days a week.
Contact Connecticut Propane & Petroleum for Boiler Sales & Boiler Services in Simsbury CT including:
Boiler Installation in Simsbury CT

Boiler Repair Simsbury CT

Boiler System Upgrades in Simsbury CT

Simsbury Boiler Removal Services

Boiler Sales in Simsbury CT

Simsbury Emergency Boiler Repair
When it comes to Heating in Simsbury, CT Propane is the company to call. For all services related to Boilers in Simsbury- Call (860) 365-5218 Today.